Cheshire beat Stamford 4-1 in quarter finals of State Tournament.
Typer Arpin scored 31 seconds into the game and the RAMS never looked back.
Mike Diglio, Mike Devine and Ryan Carbone added goals while George Donnarumma
stopped 30+ shots to propel the RAMS into the Semi Finals of the Tournament.
Their last Semi-Final appearance was 2006-2007
RAMS Capture SCC-II Tournament Title over Branford 4-2
Eric Olander, Mike Devine (2) & Alan Dagesse provided the scoring.
RAMS beat Amity 3-1 in semi finals of SCC-II Tournament.
Ryan Hanley, Nate Gaudio & Tyler Arpin scored while George Donnarumma
made 29 saves.
RAMS defeated by Lyman Hall
Lyman Hall exploded for 4 goals in the 3rd period to beat Cheshire 5-4
Colby Olin, Ryan Powers (2), Mike Diglio (2 assists), while Alan Dagesse, Nate Gaudio
and Drew Cunningham added assists. George Donnarumma had 29 saves.
RAMS Beat New Milford 2-1 for their 15th win
Mike Devine and Mike Diglio scored for the RAMS
RAMS beat Hall/Southington 3-1 on Senior Night
Mike Devine had 2 goals (20th & 21st of the season) and Alan Dagesse one
with assists to Ryan Carbone, Eric Olander, Tyler Violano and Ryan Hanley.
George Donnarumma made 15 saves for the 14th team victory.
RAMS tie Fairfield/Warde 1-1
Ryan Carbone scored the loan goal as Cheshire skated to a tie against an improving Fairfield/Warde team.
RAMS defeat Milford 5-0
Mike Devine, Mike Diglio (2), Tyler Arpin, Greg Breda scored for Cheshire while
George Donnarumma recorded his 5th shutout.
RAMS defeat Sheehan 4-1
Mike Devine, Tyler Arpin, Ryan Hanley & Ryan Carbone provided the scoring for Cheshire will George Donnarumma
made 17 saves to get the RAMS their 12th with and 7th in the SCC-II Conference.
RAMS defeat Wethersfield 9-3
After Wethersfield scored to open the game, Nate Gaudio (Mike Diglio, Tyler Arpin) tied it up to end the 1st period.
The RAMS scored 3 in the 2nd period, Arpin (Gaudio, Diglio), Mike Devine (Spencer Hackett, Arpin) & Diglio (Gaudio, Arpin) and closed out
the game with 5 goals in the 3rd period, Devine (Alan Dagesse, Gaudio), Devine (Ryan Hanley), Ryan Carbone (Hanley, Devine), Devine (Hanley, Drew Cunningham),
Eric Olander (Matt Dupont, Ryan Powers). George Donnarumma made 17 saves.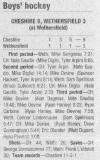 RAMS defeat Lyman Hall 4-0
After a scoreless 1st period the RAMS took control of the game with 3 goals in the
second period, Mike Devine (John Cunningham), Mike Diglio & Colby Olin. In the 3rd period,
Alan Dagasse (Matt Dupont, Tyler Violano) closed out the scoring while George Donnarumma recorded his 4th shutout of the season
RAMS beat Branford 2-1
Branford was up 1-0 on a shorthanded goal in period 1.
The RAMS scored 2 goals in the second period (Tyler Arpin & Mike Devine) to close out the scoring.
The RAMS played a solid 3rd period to close out the game
RAMS defeated by East Catholic 6-3
RAM loose tough contest to North Haven 2-1
Ryan Hanley had the lone goal for Cheahire
Cheshire Bests North Branford 5-3

Cheshire Defeats Guilford 1-0
JD Keegan nets loan goal while George Donnarumma record his 3rd shutout.
Cheshire defeats Milford 5-0
Ryan Carbone nets 2 goals, Mike Diglio 1 Goal & Assist
2nd Shutout for Goalie GeorgeDonnarumma
CHESHIRE BEATS AMITY 1-0
In a hard fought game, Cheshire outlasted Amity.
Cheshire' Mike Diglio (assist to Tyler Arpin) scored the loan goal of the game in the 2nd period.
Goalie George Donnaruma recorded his 1st shut-out of the season.
Cheshire Defeats Watertown-Pomperaug 3-1
Cheshire Ties Hand 2-2
Cheshire Defeats Shelton/New Haven 9-1
JV's defeat East Haven 4-1
CHESHIRE DEFEATS XAVIER 3-2 IN OVERTIME
Cheshire skated to a 1-0 lead in the 1st period on Mike Devine's short handed goal (unassisted). In second period Xavier tied the game at 1-1 and
in the third period took a 2-1 lead with 5 minutes remaining. Cheshire tied it up with less than 2 minutes remaining in the game on a
Nate Guadio score, assisted by Tyler Arpin sending the game into overtime. In the Overtime, Alan Dagasse scored on a pass
from Mike Diglio to close out the game for Cheshire. Cheshire had not beaten Xavier since the 2001-2002 Season.